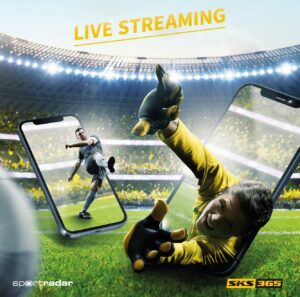 NBA, Bundesliga, as well as tennis, Italian Serie C and Copa Libertadores are just some of the live streaming content that is already available on Planetwin365 sports betting platform. Planetwin365's live streaming service is available to registered users online and on mobile devices, but also across the company's retail network, as part of the group's omnichannel strategy. Through the self-terminals, each customer can autonomously choose to watch their favourite live sports events.
Approximately 8,000 football events are covered each year: in addition to the Bundesliga and Italian Serie C, it is possible to watch the Champions League qualifiers, Copa del Rey and Spanish Super Cup, as well as competitions from all around the world that are not broadcasted on traditional TV channels, such as the Austrian and Swiss championships, the main South America tournaments (Copa Libertadores, Copa Sudamericana, Recopa) and women's football national team matches. Tennis is live for over 20,000 ITF events per year, while basketball provides 13,000 events per year, including – in addition to the NBA – the Chinese and the main European League competitions. Finally, live streaming includes volleyball, hockey and tennis.
"The opportunity to watch live sporting events is a fundamental element of the gaming experience – says Troy Cox, SKS365 Chief Commercial Officer – The agreement with Sportradar allows us to complete our offer with over 40,000 live events every year and put at the players' disposal an integrated entertainment product which is set to satisfy the needs of all types of customers. From a preliminary analysis, we have noticed that this service, allowing customers to experience the excitement of the live event, has generated a positive impact on the business. For this reason, we are also developing the necessary technologies to make the gaming experience even more interactive both on our shops and online, following our omnichannel approach".
Stefan Debus, Senior Director Audiovisual Global Commercial at Sportradar, said: "This agreement builds on our long-standing relationship with Planetwin365 and will help them create an immersive betting experience for customers old and new. The addition of streamed content from Sportradar on their website and mobile app provides a full entertainment package to engage betting customers for longer and enable them to make informed betting choices as the sporting action unfolds. Streaming services for retail, will allow each shop to customise their own content, creating a bespoke service with knowledge of their unique customers in mind."
SKS365 is one of the main operators in the international betting and gaming market, also present in the Italian, online and retail, through SKS365 Malta Limited (holder of the GAD15242 concession and the 72002 and 4584 physical network concessions).